At just 27-years-old, Spanish performer Rosalía Vila Tobella, better known as Rosalía, has five Latino Grammy Awards and a Grammy under her belt, and is renowned for her flamenco-inspired urban rhythms and electronic beats that have quickly catapulted her to fame.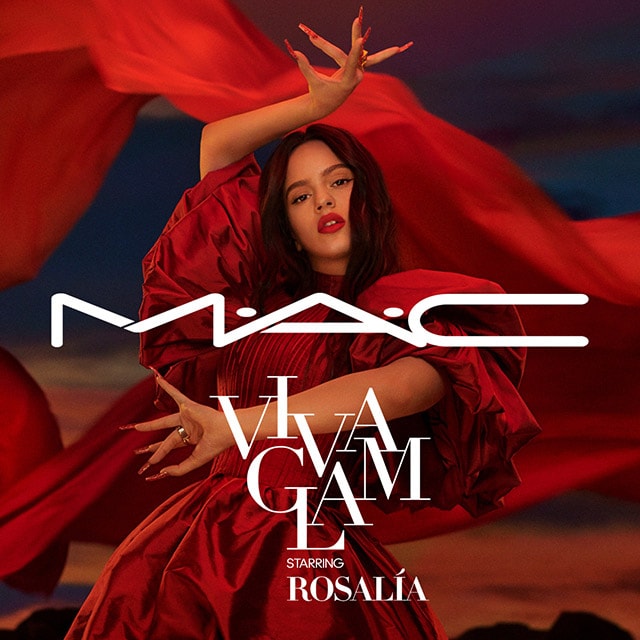 With a feminist ethos at heart, a strong sense of individuality and self, and a commitment to spreading awareness about the health and rights for women and girls, Rosalía has just been named the newest M·A·C for M·A·C's long-standing philanthropic initiative the M·A·C AIDS Fund, which dedicates all proceeds of the sale of M·A·C Viva Glam Lipsticks to people living with and affected by HIV/AIDS. Since 1994, the M·A·C AIDS Fund has raised over $500 million USD globally, with $10 million AUD raised in Australia alone. Every cent of the selling price supports local organisations including The Sydney Children's Hospital, Bobby Goldsmith Foundation, Thorne Harbour Health, Positive Life NSW, Western Australian AIDS Council and leading HIV research organisation The Kirby Institute.
"We are beyond proud to join forces with the incomparable Rosalía, who will elevate the M·A·C VIVA GLAM campaign to new levels this year. Aside from her epic voice and coveted style, Rosalía is deeply committed to improving the lives of people living with HIV/AIDS around the globe, especially those most vulnerable, including women, girls and the LGBTQIA+ community," says John Demsey, Chairman of the M·A·C VIVA GLAM FUND & Executive Group President, The Estée Lauder Companies Inc.
"It's an honour to be the face of VIVA GLAM 26 and to champion a cause that is inclusive, supports individuality and gives back 100%," says Rosalía, when asked about becoming our newest M∙A∙Ctivist.
The newest addition to the Viva Glam lineup is VG26, a richly pigmented bright orange-red in a chic matte finish. "The incredible charisma, energy and strength of Rosalía is the perfect incarnation of this vibrant, saturated red," says M·A·C Director of Makeup Artistry Baltasar González Pinel. "Taking its roots in flamenco, Rosalía's art mixes genres and emotions — it takes risks, it is full of generosity, it is pure brilliance."
The M·A·C VG26 will be available online, M·A·C stores, including Myer and David Jones, from the 24th of September, 2020.