Foundation, concealer, powder…the list of makeup products required to create a flawless base can often leave you feeling overwhelmed, particularly if you are looking for items that you want to deliver. You want longevity and coverage but you don't want your base to appear cakey. You want oil- and shine-control but still want your skin to look natural. We hear you.
This is where M·A·C's iconic Studio Fix range steps in. Created in the studio, on set with M·A·C makeup artists, the Studio Fix range of products were designed for longevity; think long days on set, bright lights, and cameras, so, in a nutshell, you know that it's going to have your back when you're wearing it. While we know you already know and love the cult Studio Fix Fluid SPF15 Foundation (if you haven't tried it yet, find your perfect match online now with our Virtual Try-On Tool), there are also some other additions that you might not have had the chance to try. "I've seen the Studio Fix range constantly develop into the extensive line up of complimentary products that really give so many great options of coverage and finish," says Global Senior Artist Carol Mackie. "Now, with such an extensive shade selection (in Studio Fix Fluid SPF15 Foundation, there's over 65 shades), there is literally a foundation, powder and concealer to suit everyone!"
Here, Mackie breaks down the Studio Fix range, and shares her top application tips.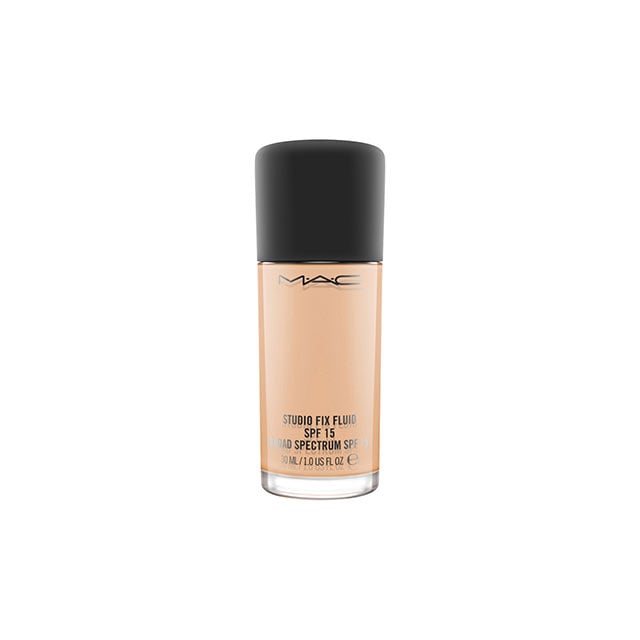 THE LONG-WEARING MATTE FOUNDATION: Studio Fix Fluid SPF15 Foundation
"One of my most used products, Studio Fix Fluid SPF15 Foundation is a firm favourite in my kit, whether I'm working on a client or model backstage," says Mackie. With over 65 shades on offer, it gives a buildable foundation finish from medium to full matte, and also helps to control oil and shine with a non-caking, breathable formula.
APPLICATION: "Using a brush to apply your skincare and foundation really makes all the difference – not only is it fast, it gives a polished, professional finish to your makeup. I use a 170 Synthetic Rounded Slant Brush; it's a dense, full, firm brush that allows you to massage in skincare then apply foundation. Then, always ensure you apply skincare by beginning at the centre of the face, working outwards and upwards to lift the skin," says Mackie. "Then, apply a small amount of foundation about the size of a pea onto the brush, begin at the centre again but this time work outwards and down the neck to smooth any fine hairs rather than lift them, stippling the foundation onto the skin by tapping with the brush if you have areas where you want more coverage."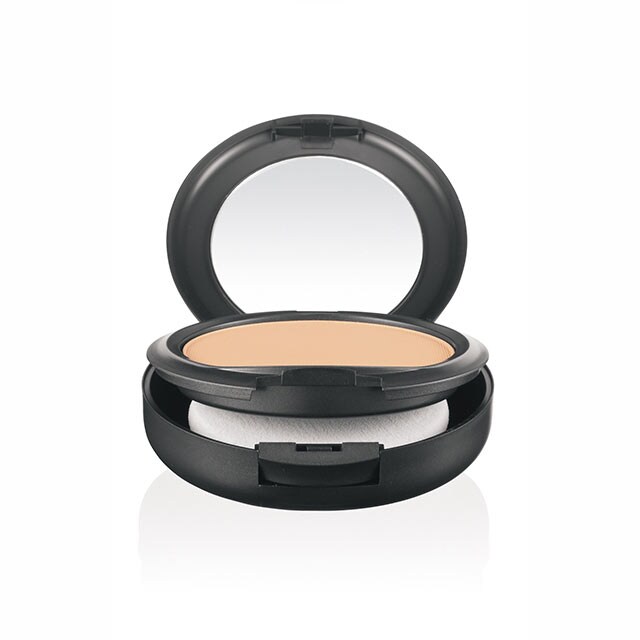 THE POWDER FOUNDATION: Studio Fix Powder Plus Foundation
"I love this powder foundation simply because it is so fast to apply and touch up throughout the day," says Mackie. "It's a full coverage foundation when applied with a sponge, however it can also be brushed lightly over foundation to set, smooth, and add coverage. With a matte finish, it has medium-to-full buildable and long-lasting coverage that also controls shine."
APPLICATION: Studio Fix Powder Foundation comes with a sponge that sits conveniently in its own compartment below the foundation, says Mackie. "For full coverage application or for touch ups, just swipe the sponge over the foundation and apply by pressing onto the face. For a lighter application, sweep with a soft, fluffy powder brush across the face on its own or over foundation."
THE STICK FOUNDATION: Studio Fix Soft Matte Foundation Stick
There are multiple reasons why you may prefer to use a stick foundation rather than the traditional liquid. Not only do they make touch-ups a cinch, they also work to improve the appearance of your skin tone and double as contour and highlight tools. "I love this foundation; not only for the convenience and ease of a stick foundation but also the vast shade range," says Mackie. "You can just swipe on and blend, plus they fit perfectly in your makeup bag; no breakage of glass or lid popping off! It's a long wearing foundation but it feels super hydrating."
APPLICATION: It's so easy to apply straight from the stick itself, and it can be tapped over with a sponge or blended out with a brush depending how you want to finish to be, says Mackie. "What's great about these little sticks is that they are not only an excellent foundation, they are also the perfect contour stick as they blend easily into each other. Take a slightly deeper shade and draw below the cheekbone, underneath the jaw, or down the side of the nose. Anywhere that you want to sculpt the face and blend, the texture makes it easy for beginners to apply like an expert!"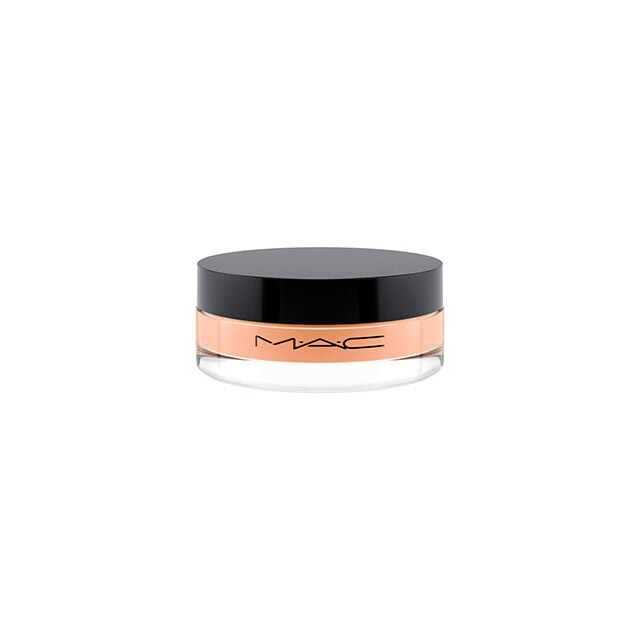 THE LOOSE POWDER: Studio Fix Perfecting Powder
There's nothing dry feeling about this perfecting powder! It's a jet-milled, super-fine powder that creates a sophisticated, polished finish to foundation and increases the longevity. "It's a lightweight powder that creates a lovely sheer to medium coverage that works to smooth and refine the appearance of pores whilst also controlling oil," says Mackie. "It's easy to apply so if you're a bit unsure about applying powder too heavily, this is the one for you!"
APPLICATION: "Simply dust over the face with a 116s Blush Brush for a smooth, polished finish," says Mackie.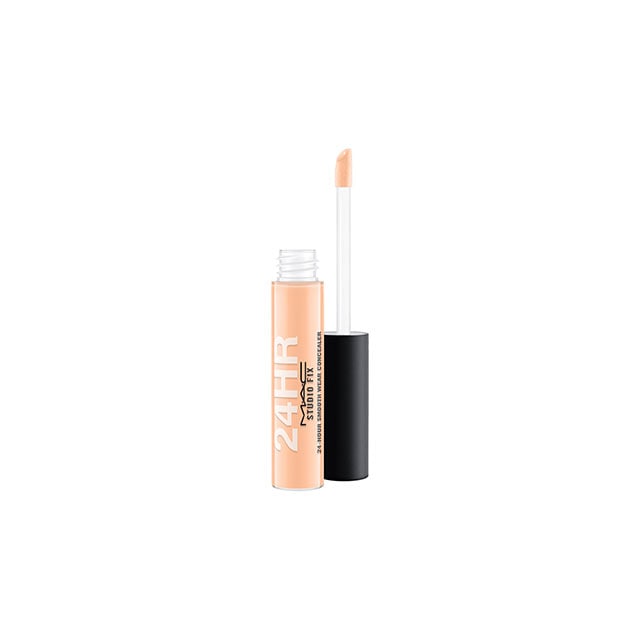 THE FULL-COVERAGE CONCEALER: Studio Fix 24-Hour Smooth Wear Concealer
This lightweight fluid concealer comes with a wand applicator that offers long-wearing comfortable finish, offering medium-to-full buildable coverage and a natural matte look. "It goes on super creamy and sets so it really lasts the distance, and is available in an amazing range of colours!" says Mackie. "It really smooths the eye area and blurs out any imperfections on the skin." Pro tip: Opt for a shade darker than you think – that is, a shade deeper than your foundation shade, when you are using under the eye area.
APPLICATION: "You can apply this straight from the wand to the inner corners and below the eye, then tap in to conceal any darkness and brighten below the eye. I also love using them for areas of the face that may need a little extra coverage but where you don't want to add more foundation, such as redness or blemishes," says Mackie.