From foundation application to selecting the perfect foundation formula to suit your skin tone and type.
Matte, glowy, sheer, full coverage... The options are endless when it comes to finding the perfect foundation. But when you've met your match, you need to then ensure that you know how to apply it for a beautifully blended, seamless finish. Choosing the right formula and learning how to apply foundation makes a world of difference when it comes to the appearance and texture of the skin. Here's where we come in. With the help of MAC Global Senior Artist Carol Mackie, we've created your go-to foundation guide — we're taking it back to basics, giving you expert tips for finding the best foundation for your skin type and, most importantly, how to apply foundation to create your best base yet.
What is my skin type?
Before you explore the best ways to apply foundation, it's important to discover which foundation formula works best for your skin. Consider your skin type and ensure you are selecting a formula that caters to it. There are three main skin types: dry, oily and combination. For those with oily skin, you might find you appear shiny and easily gather oil throughout the day. Dry skin often appears tighter and may also cause flakiness or peeling. And for those with combination skin, you have the best of both worlds - often experiencing dry spots with areas of oiliness.
Step 1: Create a fresh canvas for foundation application
The best way to apply foundation is on clean, healthy, hydrated skin. Skincare prep is crucial when it comes to how to use foundation effectively. Find products that work for you and provide a good base for long-lasting makeup. For smooth, makeup-ready skin, try the Hyper Real Skincare collection and prep your skin before applying any products.
As Carol says, "Skincare addresses concerns such as dryness, oil control, open pores, and primes, creating a smooth base for foundation to apply evenly and last the distance. It's such an important step when applying foundation; prepping the skin will make a huge difference in how the finish of your foundation applies, looks and feels on the skin."
"I love to layer skincare to create the perfect base whilst hydrating and conditioning the skin.
Fix Plus Magic Radiance, Hyper Real Serumizer and Hyper Real Canvas Balm are my go-to products for this. I begin by wakening up the skin with a liberal spritz of Fix Plus Magic Radiance to nourish and hydrate.
Followed by Hyper Real Serumizer and Hyper Real Canvas Balm. These high-performance skincare products combined will leave your skin feeling and looking like you've had a trip to the day spa!!
Hyper Real Serumizer glides on, quickly absorbing, leaving a smooth, cool, primed and plumed feel. Hyper Real Canvas Balm soothes, smooths, protecting the skin's barrier. I like to use this through the outer areas of the face that are generally more dry and down the neck. If you are very dry you could use it all over the face."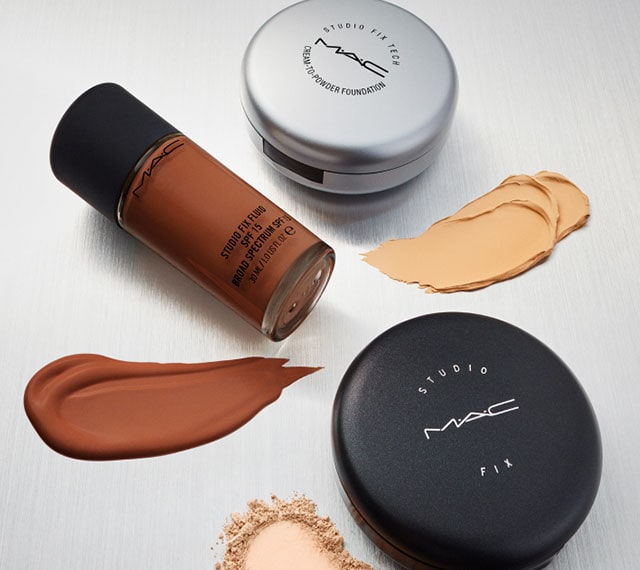 Step 2: Prep and prime your skin for a flawless foundation application
If you're wondering how to apply foundation flawlessly, do not forget about using a good primer. Applying a primer not only helps to seal in your skincare but is also effective in smoothing the skin for prolonged wear. There are a range of different primers that help extend the wear of makeup and work for various skin types. The Studio Radiance Moisturising + Illuminating Silky Primer is a perfect option for hydrating the skin. If you struggle with oil control, the Studio Fix Mattifine 12hr Shine Control Primer specifically targets pore reduction and helps to control oil build-up.
Step 3: How to choose a foundation formula for your skin type
Wondering how to find the right foundation shade? First, you need to determine what finish you like. Do you love a glowy, dewy complexion? Sheer yet hydrating foundations are your go-to. You can't go wrong with Strobe Dewy Skin Tint and the Studio Radiance Face & Body Sheer Foundation. A runway favourite but also popular with anyone who loves a sheer finish, it has a barely-there yet buildable formula that gives you a your-skin-but-better look and works well on all skin types.
Prefer something that gives you more coverage, particularly if you have oily or problematic skin? Search for a higher coverage base promising a matte or velvety texture. The iconic Studio Fix Fluid SPF15 is the ultimate long-lasting foundation that does just that; not only does it help to control oil and shine, but it also provides a flawless matte base with a polished, velvety skin texture. You can also apply the Everywhere Face Pen, which serves as both a concealer and foundation and provides excellent coverage.
For those with sensitive skin or who are particularly focused on skincare, the Studio Radiance Serum-Powered Foundation offers the perfect combination. Containing 33 skincare ingredients, including hyaluronic acid, this unique product hydrates the skin while providing excellent coverage. If you're looking for the best way to apply foundation, you can also use the Strobe Cream alongside your favourite foundation to enhance that healthy skin glow look.
Step 4: How to find the right foundation shade for your skin
Once you've decided on your formula, you need to find a shade best suited to your skin tone. The Studio Fix Shade Finder tool and the Virtual Try-On Tool are your best friends if you're unsure how to choose a foundation shade. If you are testing shades in-store, we'd recommend using natural lighting and matching to your face, not your hand or neck.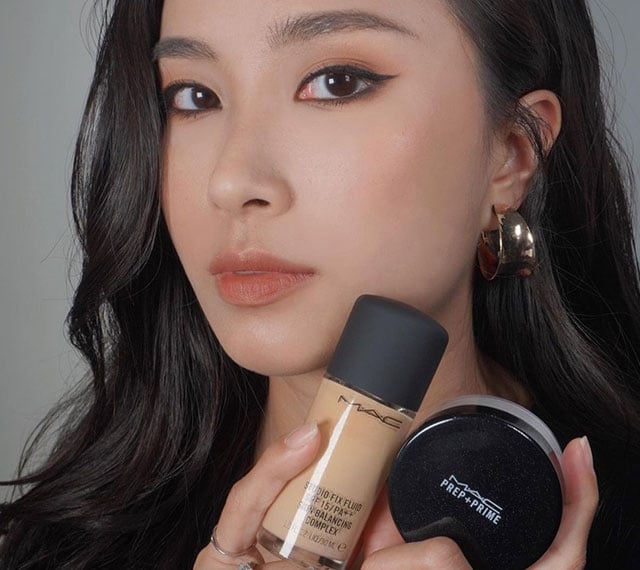 Step 5: How to apply foundation with the right tools
Finding the right brush is a crucial step in learning how to apply foundation.
As Carol says, "An easy foundation mistake to make when applying foundation is, to begin with too much on your brush, making it difficult to blend, leaving foundation sitting heavily on the surface of the skin. Start by applying around a pea-size amount; you can always add more if you need to. I use the #170 Foundation Brush. This dense brush allows the foundation to glide on without soaking up the product. Begin at the centre of the face and work outwards and downwards to ensure you are not picking up on any fine hairs on the face".
"Take the product down the neck to even out skin tone and blend seamlessly between the face and neck. By simply tapping, this dense brush allows you to easily build in any area you need more coverage", Carol suggests.
Step 6: When and how to apply powder foundation
Powder foundation is a really quick and easy foundation option for someone who is always on the go or someone who likes to keep foundation in their handbag for touch-ups. Depending on your skin type, powder foundation may or may not work. The Full Coverage Foundation compact is a long-wearing foundation and offers opaque coverage, hiding any imperfections mattifying the skin and minimising shine. We'd recommend this for those with dry or combination skin.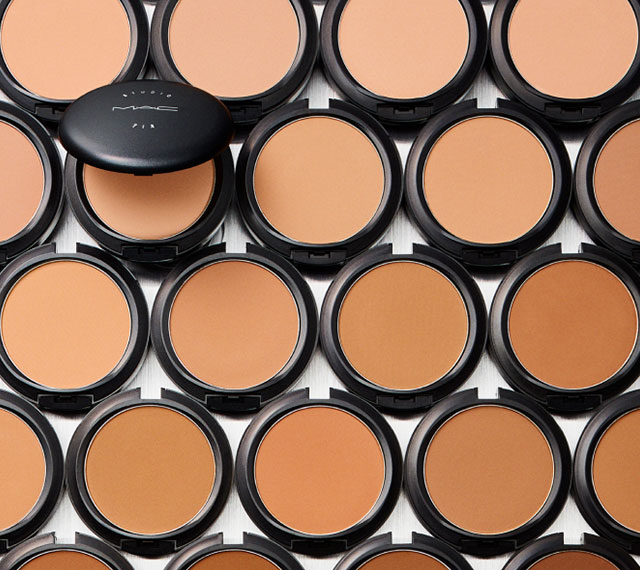 Step 7: Apply a setting spray to lock your look in place
After completing the steps of how to apply foundation, apply a setting spray to lock it all in. M∙A∙C has a huge range of setting sprays, including Fix+ Stay Over, Prep + Prime Fix+ and Prep + Prime Fix+ Matte, with each formula having different benefits, whether it's to hydrate, mattify or for long-wearing protection.
Tips for foundation application
Some additional tips on how to apply foundation flawlessly include:
Ensure your application tools are clean to avoid streaking and transferring bacteria onto your clean skin.
Use a buildable technique. Start by only applying a small amount of foundation using thin layers and build until your desired coverage to avoid a cakey look.
Don't forget about the neck: blend your foundation beyond your jawline for an all-over, even finish.