If you're looking to achieve a radiant and glowing complexion, incorporating an illuminating cream into your skincare and makeup routine is a must. An illuminating cream not only gives your skin a smooth canvas for a seamless makeup application but also helps enhance your natural glow, whether you wear it with or without makeup. Discover the world of illuminating face creams and learn how to use them effectively to achieve that coveted natural glow.
What is an illuminating face cream?
Illuminating face cream is a skincare and makeup hybrid product designed to add radiance and luminosity to the skin. It helps to create a smooth, glowing base for your makeup while providing nourishment and hydration. M.A.C. offers two popular illuminating face creams: Strobe Cream and Strobe Dewy Skin Tint.
What is Strobe Cream?
Strobe Cream is a moisturiser that goes beyond hydration. It features iridescent particles that instantly boost the look of dull skin and serves as a natural glowy highlighter.
This wonder moisturiser is considered one of the OG cream highlighters. Infused with iridescent particles, this radiance-boosting formula has the ability to really amp up the glow factor on both your face and body. M.A.C Strobe Cream is a rich and glowing face cream available in five shades and is packed with nourishing ingredients such as botanical extracts, vitamins and antioxidants.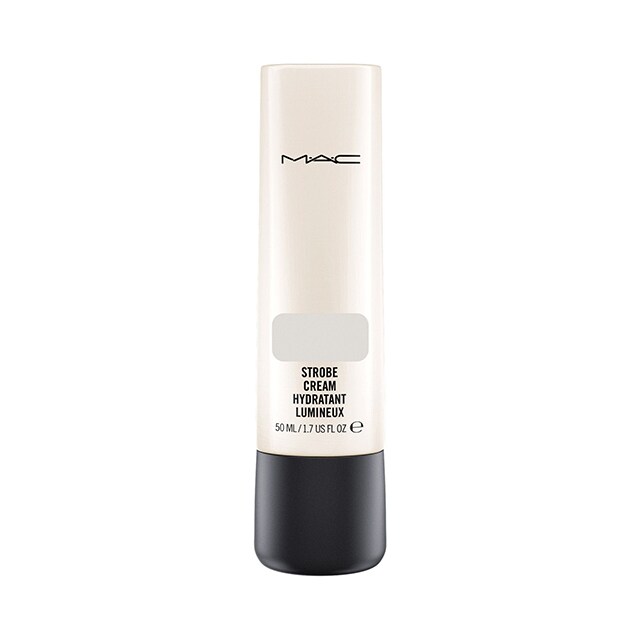 How to use Strobe Cream
"I call it Berocca for the skin," explains M.A.C Global Senior Artist Carol Mackie. "You can use it alone as your favourite moisturiser to add luminosity, you can mix it in with your foundation to make your overall complexion look more radiant, or you can tap it on the cheekbones to complete your look, giving a creamy highlight to the skin."
In other words, this makeup multitasker is a staple in your beauty kit in more ways than one. It serves as a glowing primer, moisturiser and highlighter.
Wear it on its own:
"In the morning, Strobe Cream is like an instant pick-me-up, and if you feel like going makeup-free, you can just wear it on its own," explains Mackie.
The even better news is that you can apply the illuminating cream using your hands and then smooth it on for naturally glowy skin. This option is ideal when you feel like your complexion is looking a little dull or lacklustre, adding the perfect shine.
Mix it in with your everyday foundation:
When you mix a few drops of Strobe Cream into your foundation, you'll get a sheer, your-skin-but-way-better finish. It becomes the best illuminating primer and works a treat when paired with our cult base M.A.C Studio Face and Body Foundation. Mackie recommends applying it with a M.A.C Foundation Brush #170, starting in the centre of the face and blending outwards.
Use it as a spot highlighter:
When you're spot highlighting, both powder and liquid formulas should only be applied on the high points of your face. Think of it this way: any features you want to accentuate and bring forward, such as your cheekbones, the centre of your nose, and the Cupid's bow, add highlighter to those areas. You can then see if you need to contour and apply deeper shades to the areas you want to add shadow and depth. Strobe Cream serves as the best cream highlighter. To use Strobe Cream as a highlighter, "Just warm it into your fingers, then I like to tap it on the cheekbones for a gorgeous, subtle highlight," says Mackie.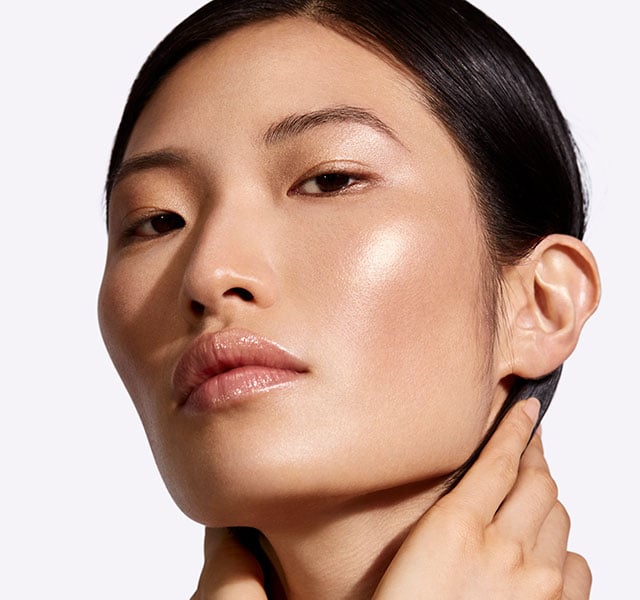 What is Strobe Dewy Skin Tint?
Strobe Dewy Skin Tint is a sheer, illuminating tinted moisturiser with light-bending effects. It is infused with hyaluronic acid, shea butter, squalane, and vitamin E to nourish and protect the skin. This luminous tinted moisturiser has a soft, balmy texture that glides on smoothly, giving your skin a dewy and healthy-looking glow.
How to use Strobe Dewy Skin Tint
Strobe Dewy Skin Tint is the best tinted moisturiser because it can be used in many ways. As Mackie says, "Love a multi-tasking product - I've been using Strobe Dewy Skin Tint as a base prior to foundation to add soft, subtle radiance, mixed into Studio Radiance Face and Body Foundation, and also pressed on top as a highlight!"
Wear it alone for a dewy glow:
Apply Strobe Dewy Skin Tint as an illuminating tinted moisturiser on its own for a natural and dewy look. Prep your skin beforehand to ensure a smooth texture. This technique is perfect for those no-makeup makeup days when you want to enhance your skin's natural beauty. As Mackie says, "Strobe Dewy Tint can also be used all over the face for a glowy, "I've been to the gym and worked up a sweat" healthy looking skin."
Apply it under your foundation:
For a lit-from-within look, apply Strobe Dewy Skin Tint underneath your foundation as an illuminating primer. Use a dense brush such as the M.A.C #170 Brush to apply, starting from the centre of your face and blending outwards towards your neck. This will give your foundation a subtle radiance and create a luminous base for the rest of your makeup.
Wear it beneath powder:
If you prefer a radiant matte finish, you can apply Strobe Dewy Skin Tint under powder products. The illuminating properties of the tint will shine through the powder, giving your skin a luminous glow while maintaining a matte look.
Shop Strobe Dewy Skin Tint Here
What is the difference between Strobe Cream and Strobe Dewy Skin Tint?
The key difference between Strobe Cream and Strobe Dewy Skin Tint lies in their coverage and formulation. Strobe Cream is a moisturiser with iridescent particles, acting as a liquid highlighter and boosting the glow of dull skin. On the other hand, Strobe Dewy Skin Tint is a sheer, tinted moisturiser with light-bending effects, providing a dewy coverage and enhancing the natural radiance of your skin.
Incorporating an illuminating cream into your skincare and makeup routine can transform your complexion, giving you a radiant and glowing appearance. Whether you choose to wear them alone, mix them with foundation, or use them as spot highlighters, illuminating face creams can elevate your makeup game and enhance your skin's natural beauty