Made for Fashion pairs leading fashion designers and makeup artists for a candid conversation about creativity, collaboration and catwalks
Thom Browne, a man of profound, rigid uniformity in his personal life, happens to be the driving force behind some of fashion's most provocative, extraordinary, inventive designs. Each of his collections tells bold stories wrapped in wit and dripping with craft, as eccentric as they are aspirational.
A stroke of creative fate brought makeup artist Sil Bruinsma into his orbit, a man who expertly brings to life Browne's singular point of view, treating the face of each model (for both men's and women's collections) as an extension of the clothes they're wearing. Together they create a total fantasy, shattering expectations season after season, always strikingly memorable. Here, they discuss their relationship, what makes them so compatible, and how they work together to execute Thom's strong vision.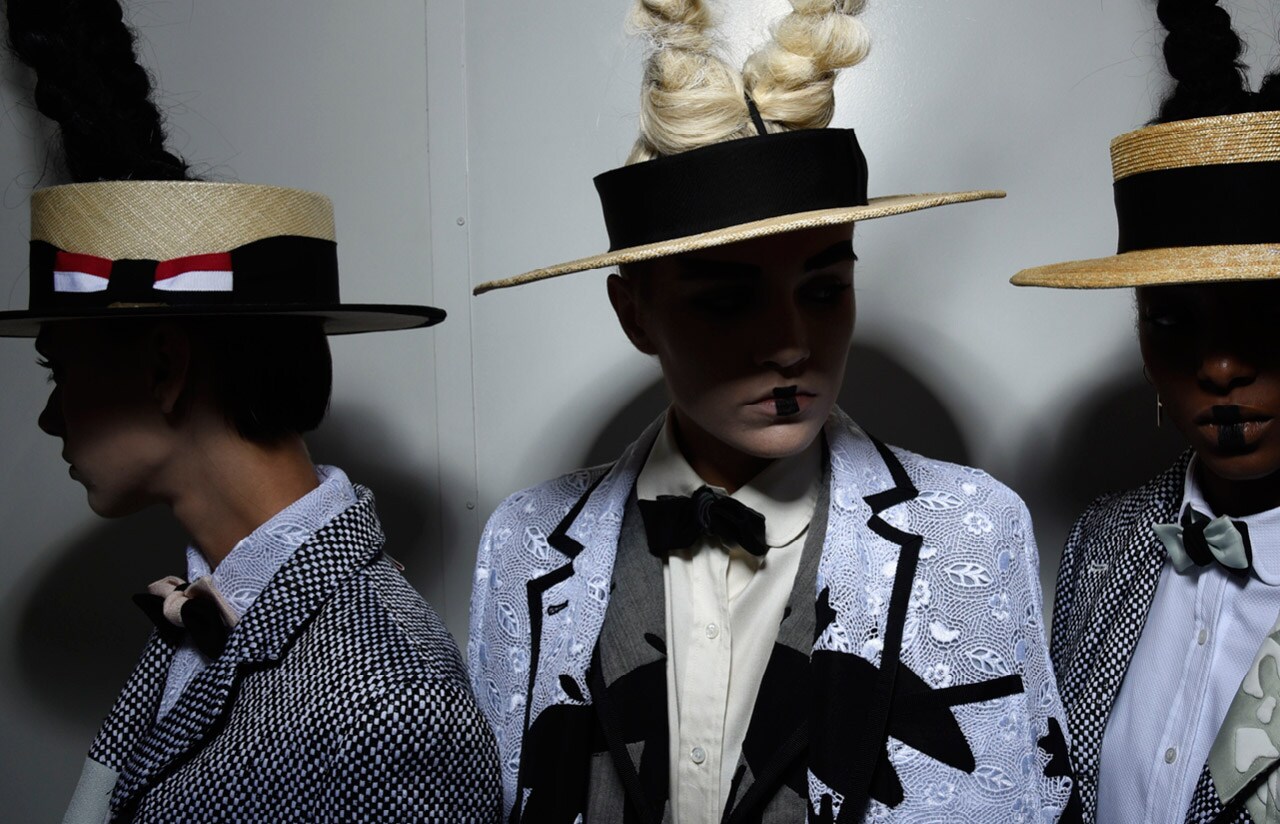 Sil: We started about four years ago in Paris, on men's, and after that Thom started showing women's in New York and I got on board with that as well. It evolved to where we are now. Even for men's shows we do quite a bit of makeup. It's basically just the same as the women's.
Thom: I am not a makeup expert, so working with Sil is the type of relationship that I really appreciate because I have a specific idea of what I want to do. I give my idea to Sil and he makes it better. He's an expert at what he does. Anybody who is really good at what they do is inspiring.
Sil: Thom has such a strong vision, it's really his own world, and he comes up with the idea – whether it's from a movie, or wherever – and he gives me a couple of references, or he'll say, "I'd like to see this or that." Now, after a couple of years working together, I know what direction he wants to take it.
Thom: My inspiration comes from so many different places, but I use a lot of movie references. Sometimes it's just thinking of an original idea, something that I haven't seen before. It's creating something that works with the collection, but that there is also a reason for it, that it's somewhat entertaining.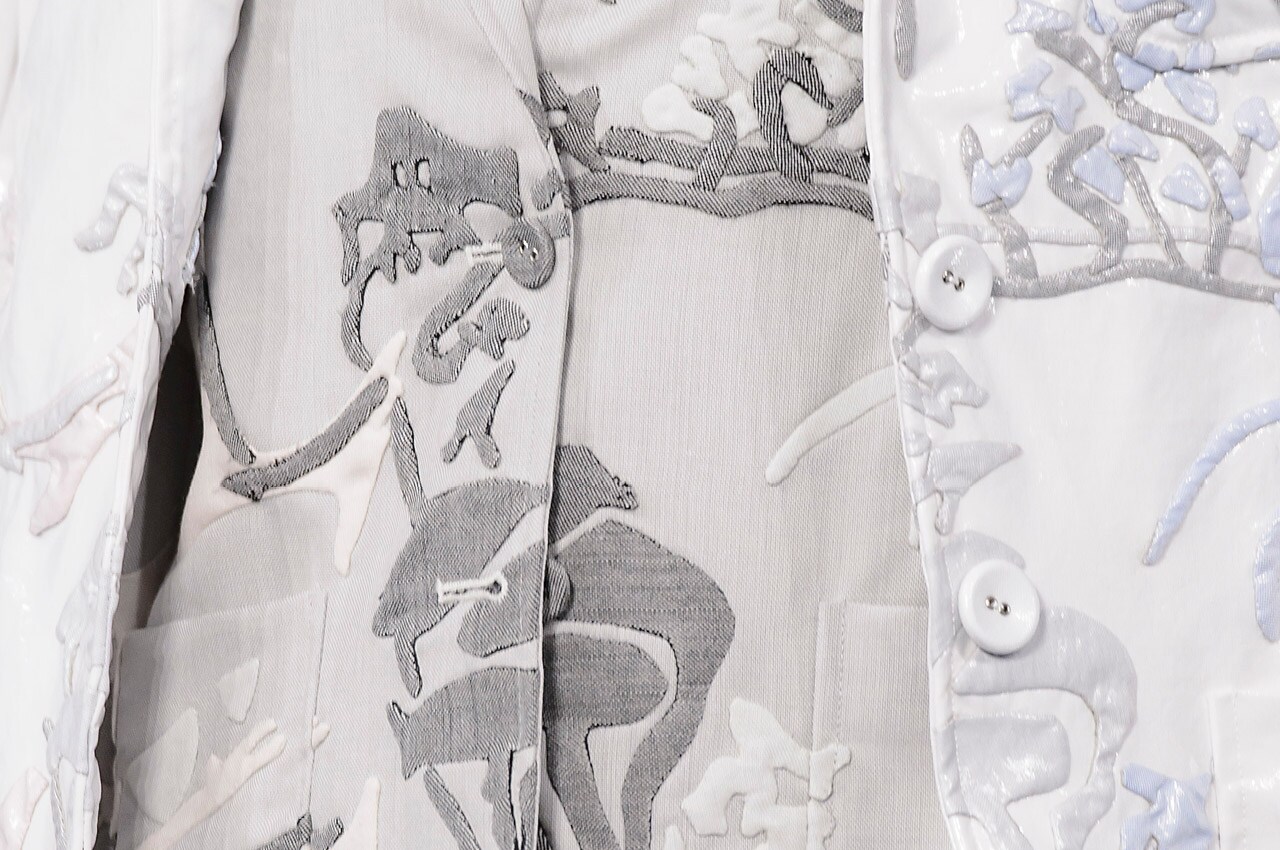 "There are two types of beauty. The kind that beautifies people…And then there's a beauty that's much more directional. More creative and daring."
Sil: It's such a wide range of influences. Artists, painters, sometimes it's just a woman on the subway. Sometimes designers give you an idea of what you want, or sometimes it comes from taking a look at the collection or the fabrics. It's sensing and feeling what Thom likes to see, and then giving my own spin.
Thom: The way I design, everything is really thought out at the beginning. Of course I leave myself open to evolve along the couple of months that the collection comes to life, but there's a pretty clear idea from the beginning. The most important thing is that the reference isn't literally used. It's very loosely integrated into hopefully an original idea.
Sil: There are two types of beauty. The kind that beautifies people, and certain designers ask you to make the girls look pretty. And then there's a beauty that's much more directional. More creative and daring. I like the other part, too – makeup artists do have to be versatile in how they work – but I especially appreciate working with someone who pushes me to try out other things, or is open to it.
Thom: The most important thing for me, especially in this world, is that it works with the collections. And my collections are somewhat provocative and they're not normal. So the makeup is never going to be normal. But it's normal in a way that it's more for entertainment, for looking at things differently.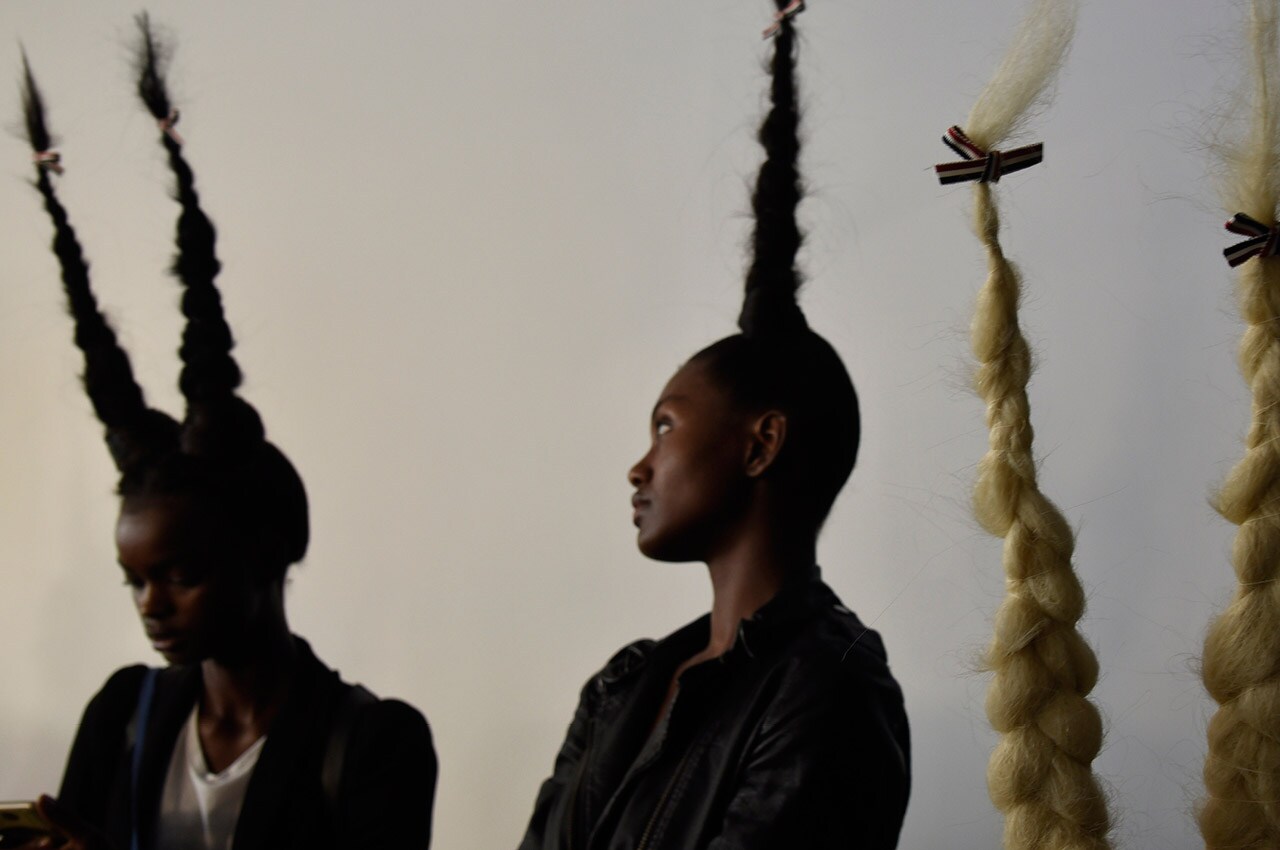 Sil: Sometimes Thom has a very clear idea that he wants the makeup to look like this, or that, and during this particular season, it was more like he showed me a fabric of a leaf and I went with that, and the makeup went from the clothes up through the face, so it was all camouflage.
Thom: I came to Sil with the idea that it would be interesting to carry the camouflage into the makeup, and just from saying that, the creation of that season was one of the most beautiful things I've ever seen. The camouflage really coming through…
Sil: Thom is someone who has such a strong vision. I love what he does, and in that sense it's a great opportunity. It's really nice working with him. There's a mutual trust. We trust each other in what we find beautiful, and what works. And that's great to have. Not always the case.
Thom: That's really what it is. Respect and trust. I've worked with a lot of different people, but there are a few relationships that are really built on that ongoing trust.