Made for Fashion pairs leading fashion designers and makeup artists for a candid conversation about creativity, collaboration and catwalks
For designers Marta Marques and Paulo Almeida, the duo behind fashion's favourite brand of frayed denim-wear, Marques Almeida, their points of reference have always touched on the grungier side of the 90s – think Courtney Love two-day-old lipstick and crusty kitten eye-liner, juxtaposed, of course, with the fresh, dewy skin of disenchanted youth seen in Corrine Day photo-shoots.
Originally from Portugal and both Central St Martins alumni, Marta and Paulo launched the brand in 2011 and quickly built up their fanbase, their signature navy or baby blue frayed pieces backlashing against the uniform pipe cleaner black denim. Since AW13, M·A·C Director of Makeup Artistry Terry Barber has helped them create the story of the girl they send down the catwalk – changing his own perception of beauty, as well as theirs.
Marta: Before any show, Paulo and I are usually in Portugal for quite a long time in the run up to fashion week, doing production. We come back a couple of weeks before, and when we do the hair and makeup tests, that's when we look at research and our references, as well as the references of our stylist John Colver.
Terry: I know who your 'girl' is now. When you work with someone regularly, you kind of know who the girl is. I'm not going to come in and it's going to be false eyelashes and a beige lip gloss. It's not suddenly going to look like Versace.
Marta: Even if the direction is quite different, it's usually going to be quite raw and grungy. There's always a backstory that we talk everyone through. We have similar reference points, like Corrine Day shoots and early 90s issues of The Face.
"I'm almost embracing an anti-beauty, I find this more complex and it takes more of an eye… The way it's put on gives her a certain spirit." —Terry Barber
Terry: If there's a red lip involved, it's going be more Courtney Love than Gucci – there's always a sense that the makeup is a few days old. This is the story of a girl whose makeup is deliberate. She's put it on and likes what happens to it two days later. There's a skin that you like too, it's the unhealthy side of fresh. She's never ugly, she's never goth…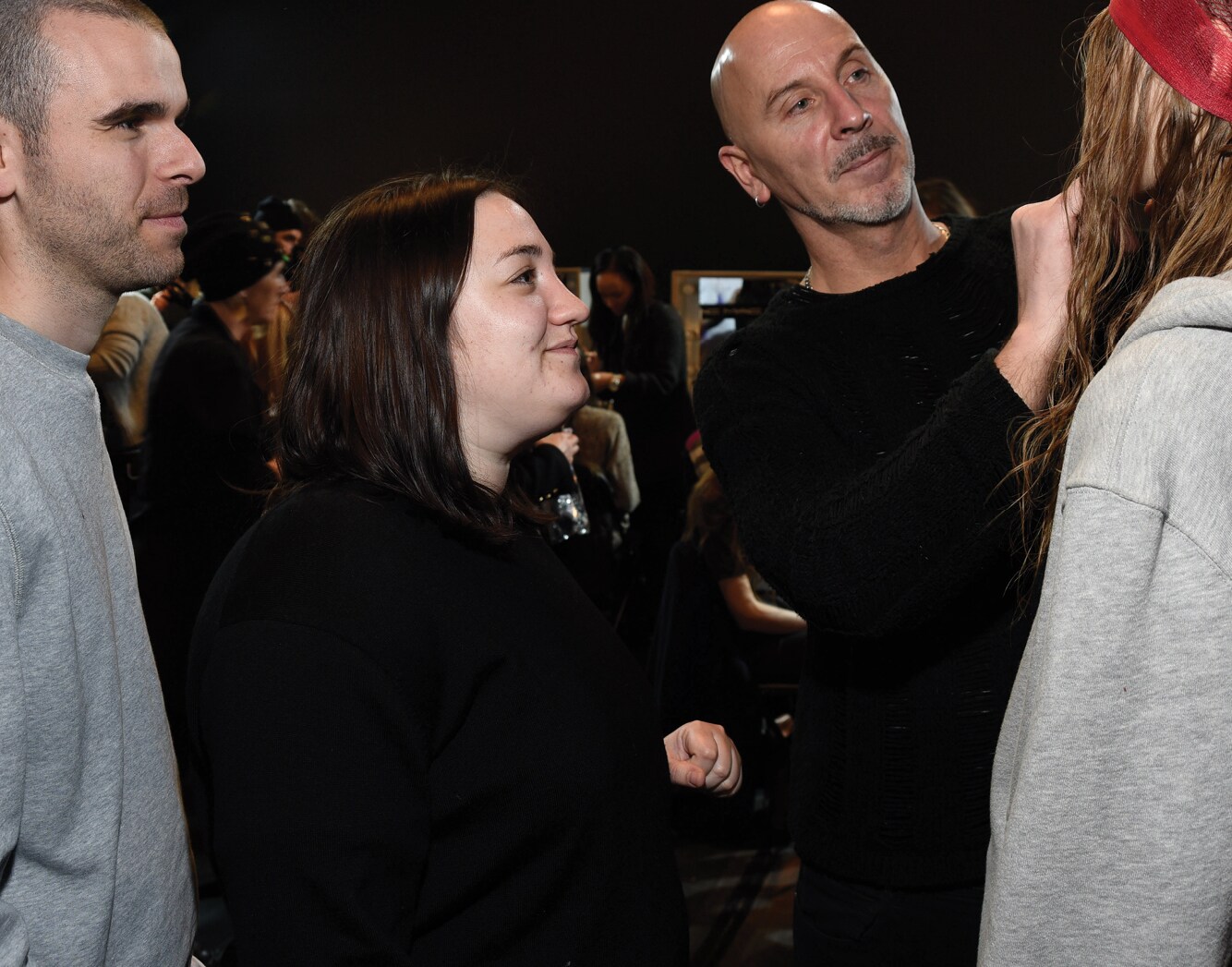 Marta: It's quietly defiant. It's not meant to be ironic either. And it's supposed to be fun, how she uses makeup. It's always the same girl, every season, but it's always a different back-story. The first show we did referenced the 70s and the Chelsea Hotel and that touched on different points that we've picked up again after. But it's still, in essence, the same girl. She's not try-hard, we try hard to stay away from that.
Terry: Casting is a big part of it too…
Marta: Definitely, it's never about the height or the body shape, or the pretty face, it's about finding a girl that can carry that makeup. We always want it to feel authentic so you have to find models where it makes sense.
Terry: We can't try and reverse her either – we have to keep the models' little quirks. It's almost like we adjust what we are doing to each model. When it comes to picking my team, I pick people who will get this story. If they just want to do Kardashian makeup, I'm like, 'no'. They need to feel it – I always, just before the show, tell them the story of who she is. If I said, she's got thick black eyeliner, god knows what I would wind up with. If I say, she's put it on, on the bus, with a Sharpie, then they'll understand.
You know, it really speaks to me, doing this show. It's everything I like in beauty, personally. I think it's changed how I work too – I'm almost embracing an anti-beauty, I find this kind of beauty more complex and it takes more of an eye to bring out the story of a girl with less product. The way it's put on gives her a certain spirit.
Marta: We have always said it's not necessarily about the product, it's about the girl. We've always been obsessed with who she is and what she does and it's really nice that Terry has the same enthusiasm about her and doesn't want to just talk about technicalities. We wouldn't know how to express ourselves in those terms!